Double click here to edit this text.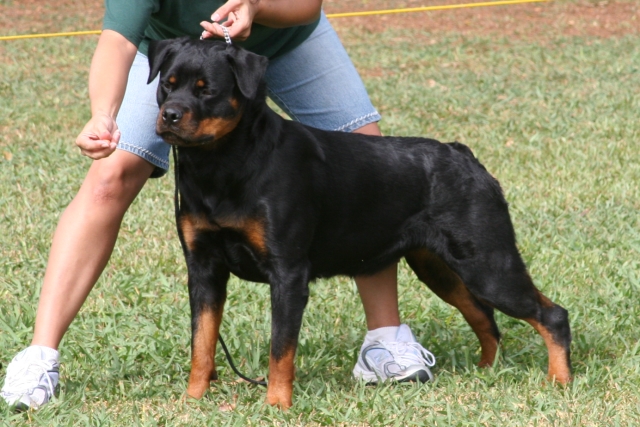 Best in Match, AKC pointed, DBR's Mele, owned by Kylee Ueno.

text.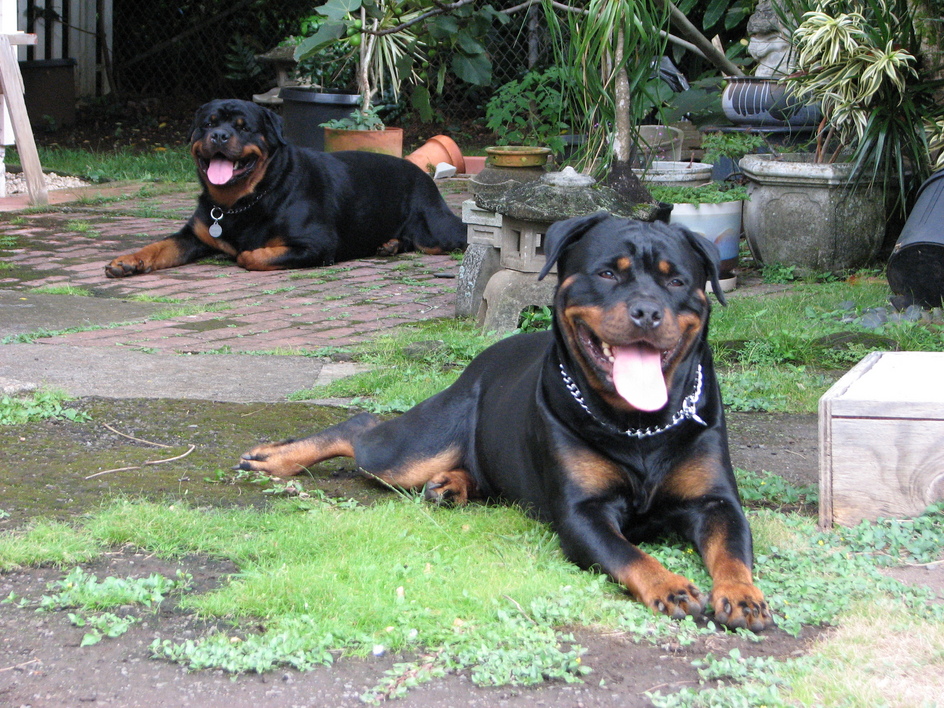 DBR's Bravissimo and DBR Import July Earl Antonious, owned by Jim Ko, Honolulu

text.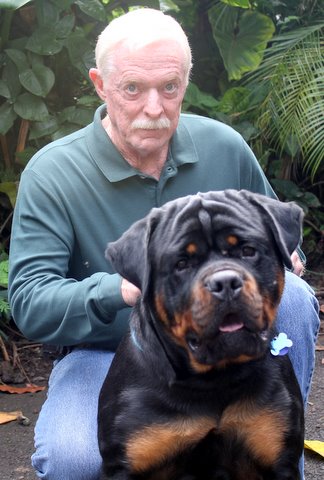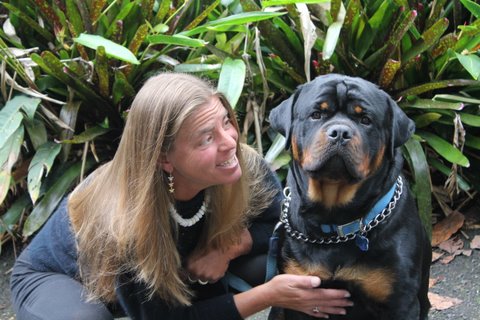 DBR's "Baron" with his owners, Reed and Lori Hough, Big Island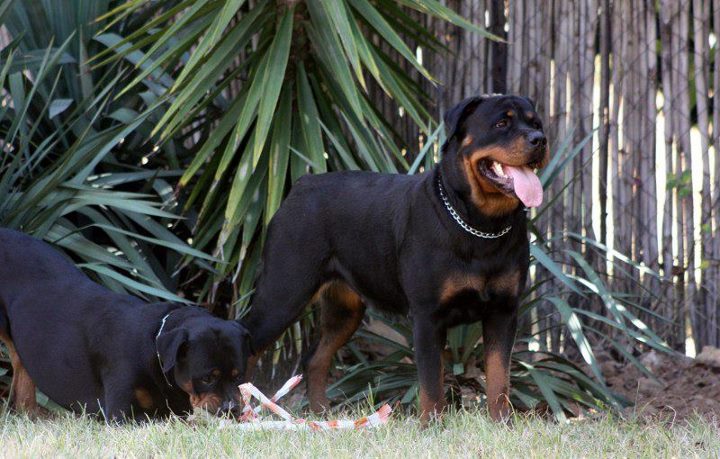 Multi V-1 Rated DBR's Silver Star of Hause VD Sterne (the female standing) owned by Jaco Van Niekerk South Africa.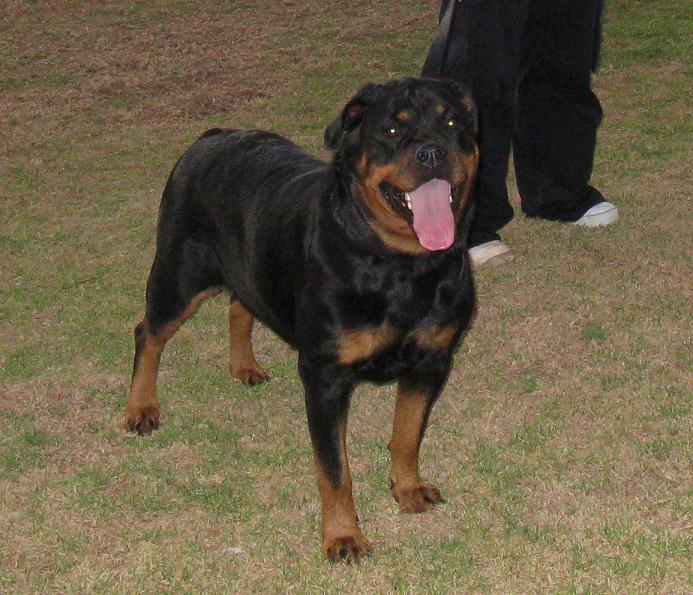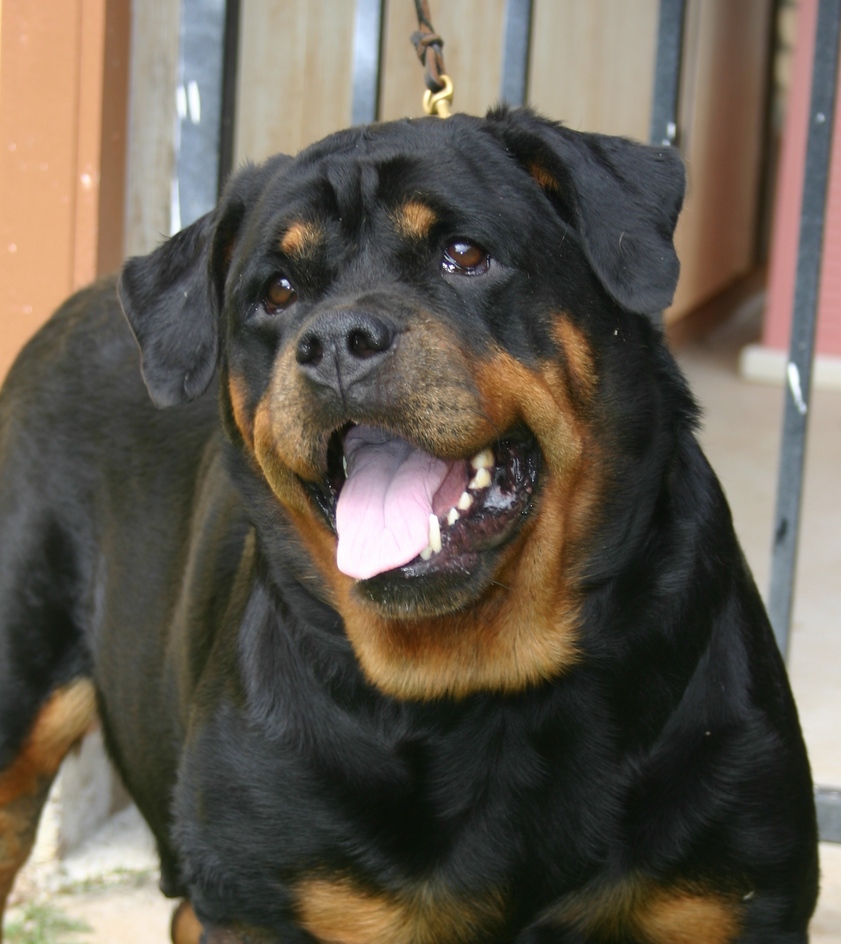 CH Amazing Grace, DBR owned by Denis Valente, Maui

ext.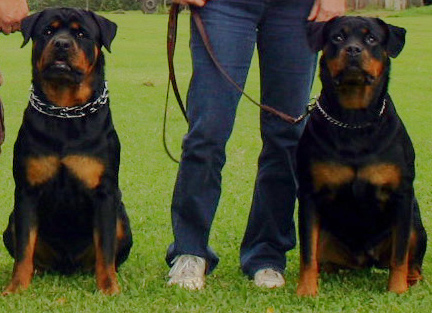 DBR's Guiness owned by Brian Rivera and DBR's Furst Sight (a bitch) owned by Tiare Paty.
Our previous puppies throughout the years. Click on the pics to enlarge.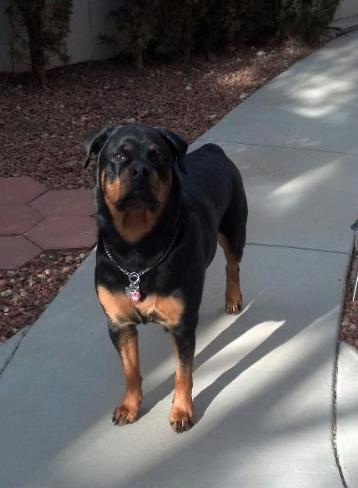 Xena is owned by Justin Kyriannis and family in Las Vegas Nevada. She is one of our second generation DBR females. Photo by owner.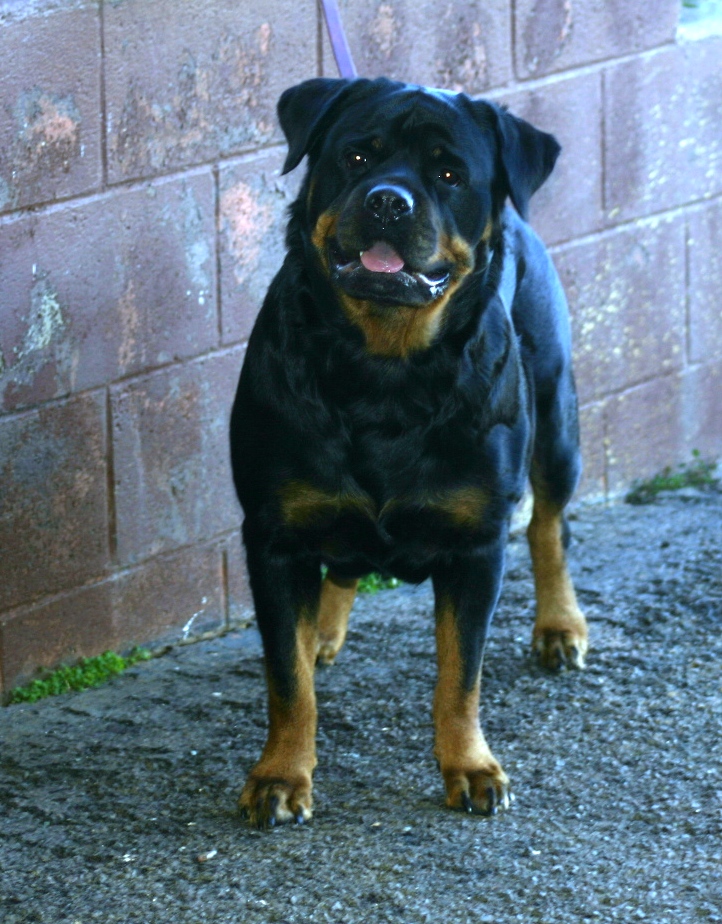 "Hoku" (a bitch) owned by Joy and Wes Jay, Mililani Hawaii.
Remich's "Mana" DBR and DBR's Mele, owned by Michelle and Reggie Perry,Makakilo Hawaii
Multi BOSS CH. Captain Fantastic DBR, "BamBam" pictured at the Working Dog Specialty, June 2013.

​​​
(JCH. Ando Crni Vitez x MBIS CH Goldshield MGM Grand V Braun CD)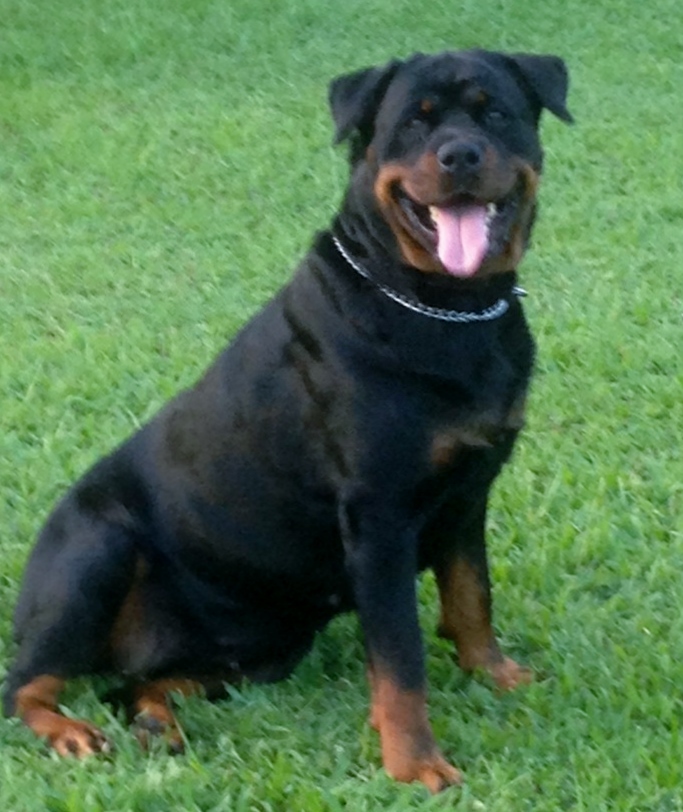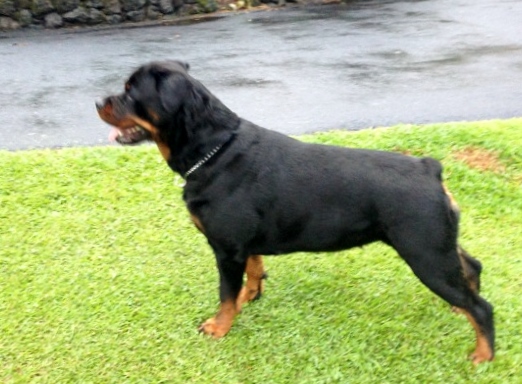 DBR's Winter Storm, sister to "Dakota" is owned by the Drivers' on Kauai, Hawaii.
Sgt Mark Daniels right, with DBR's "Vinny" North Carolina, USA
Double click here to edit this text.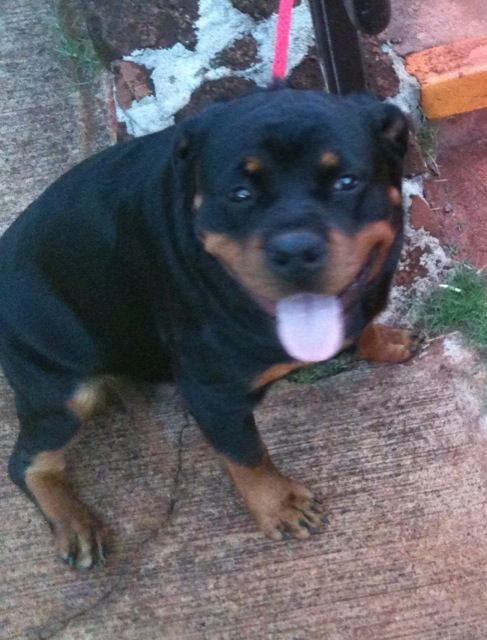 Ginger lives on Kauai with Brian Ueno and his family.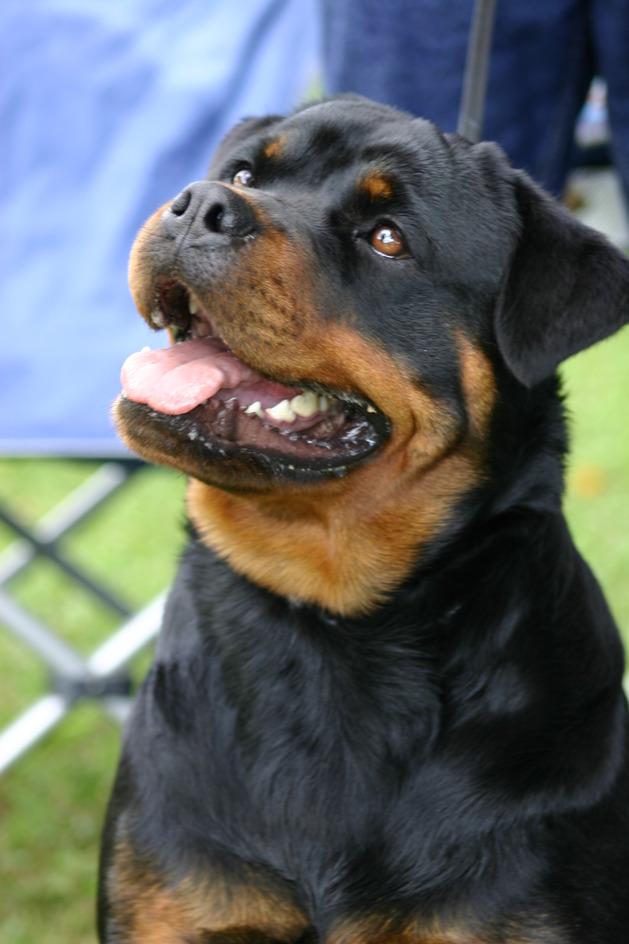 AKC pointed Remich's Hot Hawn Knight, DBR is owned and Reggie and Michelle Perry, Ewa Hawaii.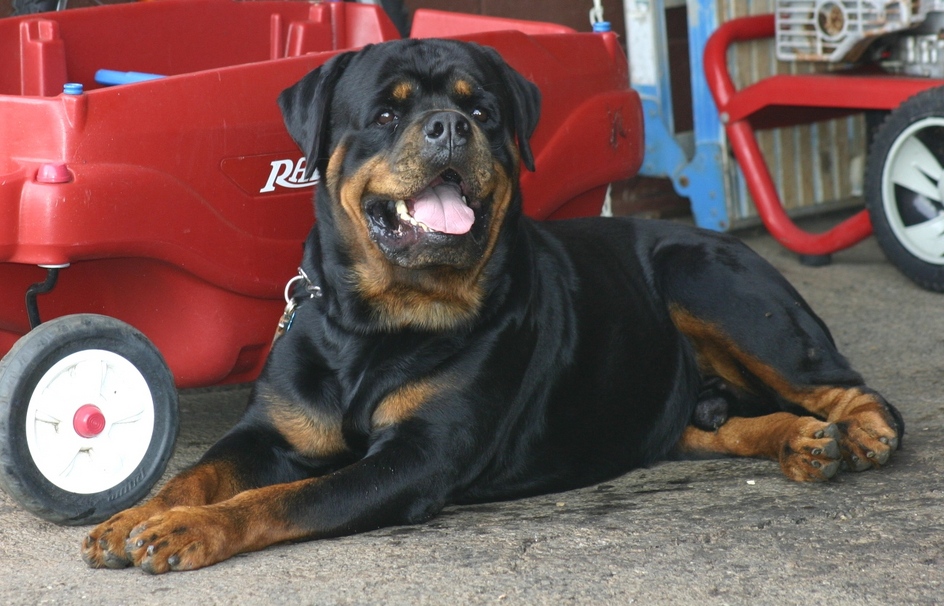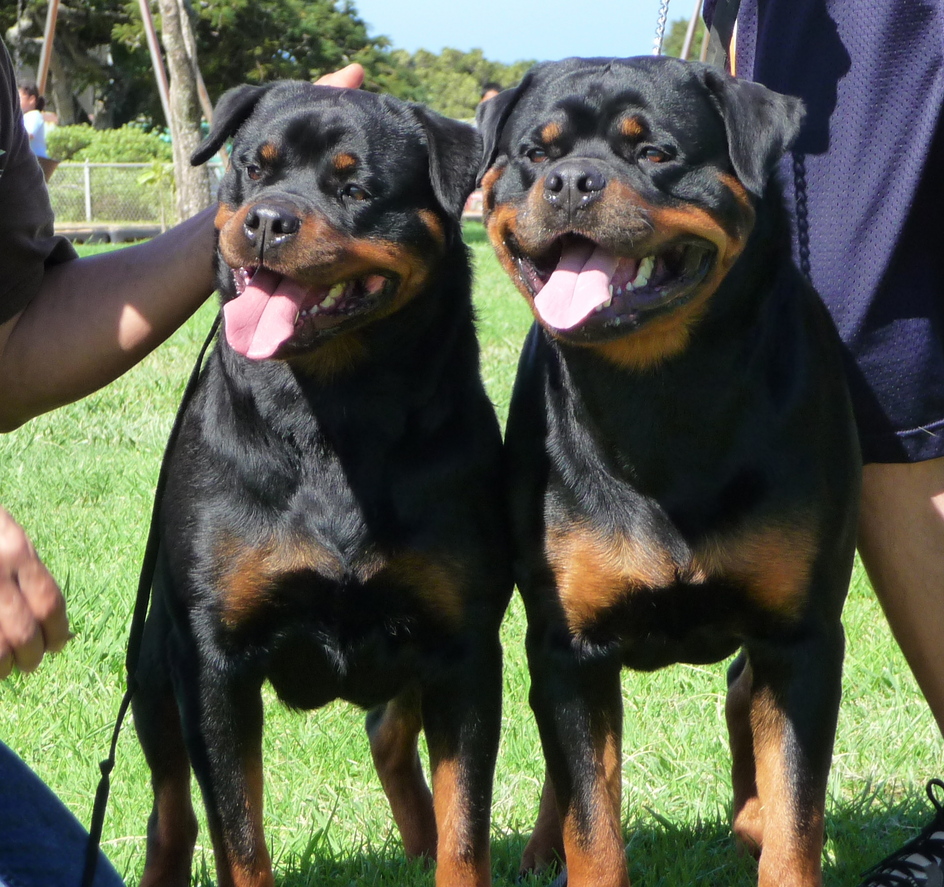 DBR Champion siblings from Maui, "Lani and BamBam" both live on Maui.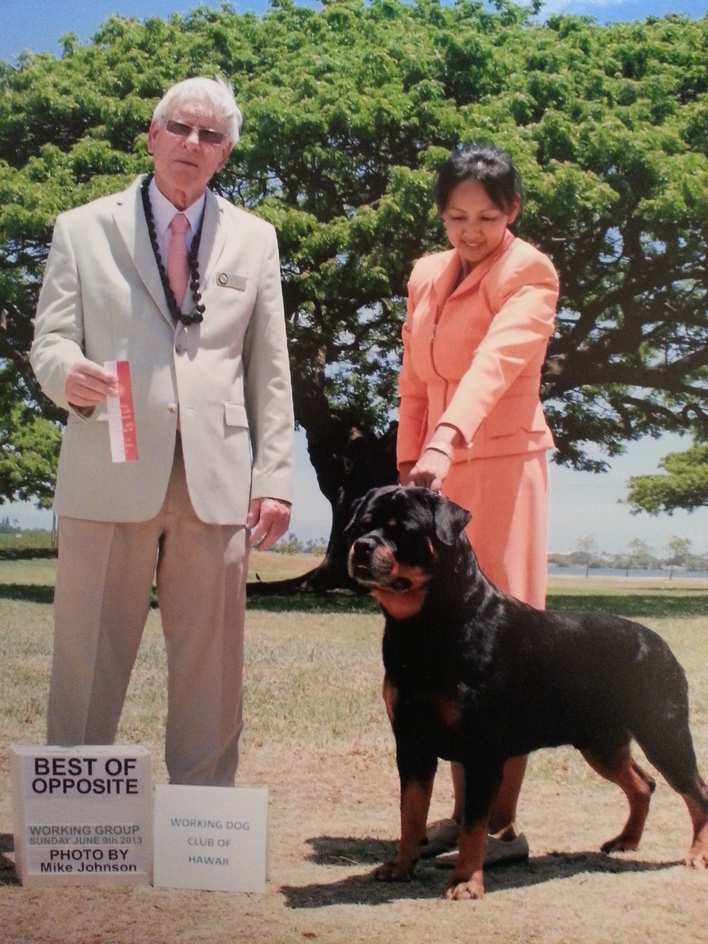 Breeding for a complete Rottweiler means not only "knock your socks off beautiful" but also, mentally of good character, sound in body and also equipped with the genetics to reproduce great offspring. Below, dogs which has done just that.
Best in Show "Solo" (a bitch) bred by Suzi Hiliis and out of a DBR bred bitch "Diva" and DBR import "Heineken."
Mex Best in Show "Vegas", produced multiple champions and was awarded American Rottweiler Club's Producer of the Year. Below, her son, Best in Specialty Show, "Hero" and his daughter, our newest AKC CH. "Lucie."
​
BISS GCH. Hero,
Vegas son
CH. Lucie is a Hero daughter and granddaughter of Vegas. Photo May 8, 2014. She completed her Championship with four majors in limited shows.

​​
Lucie is OFA clear hips, elbows, eyes and heart, "OFA CHIC"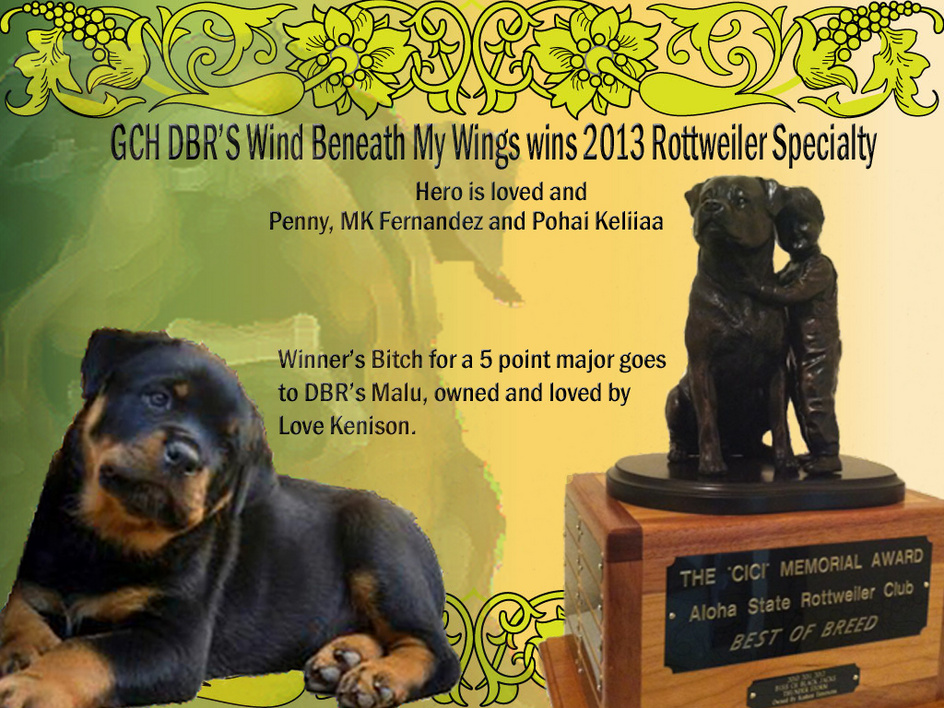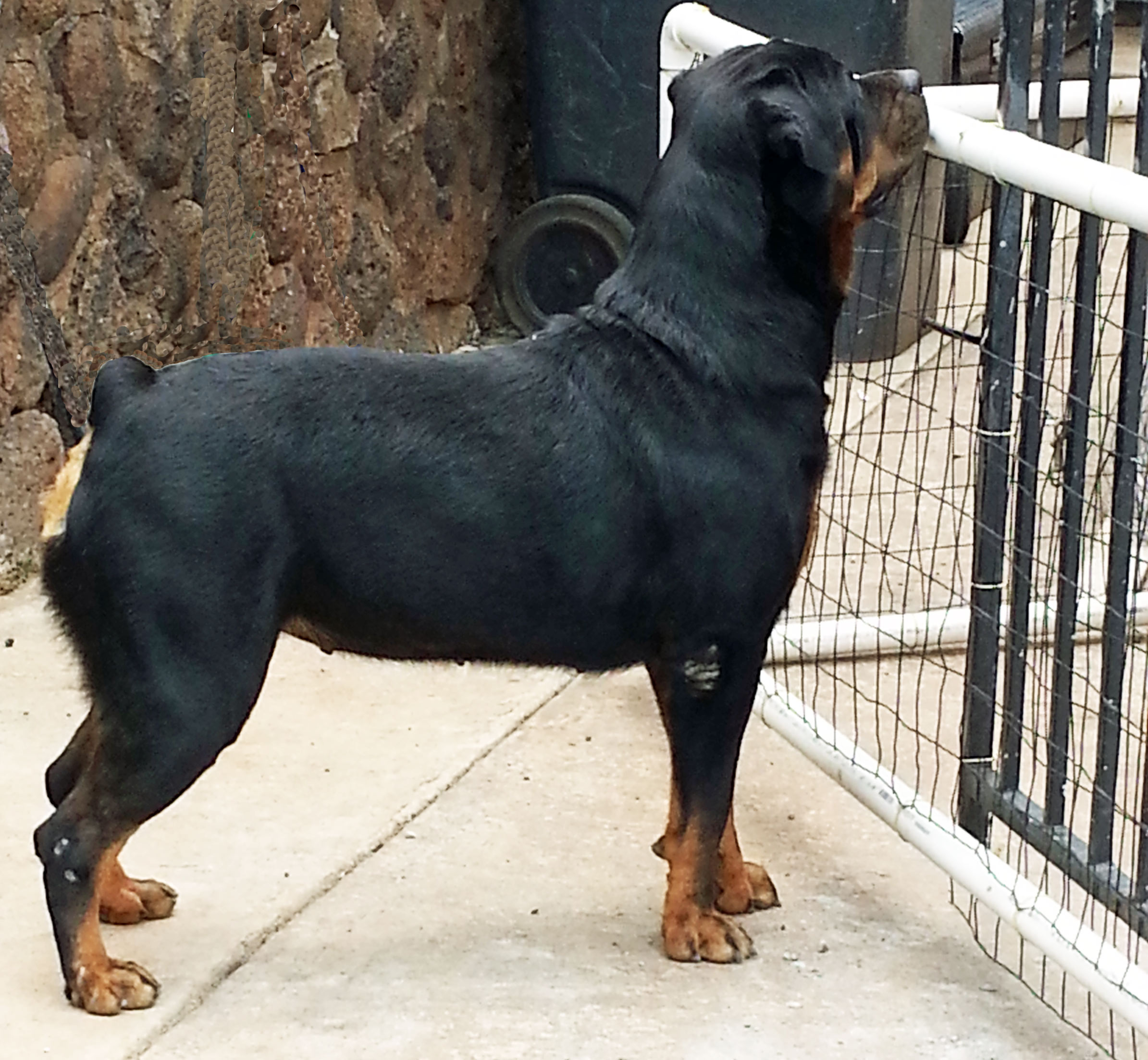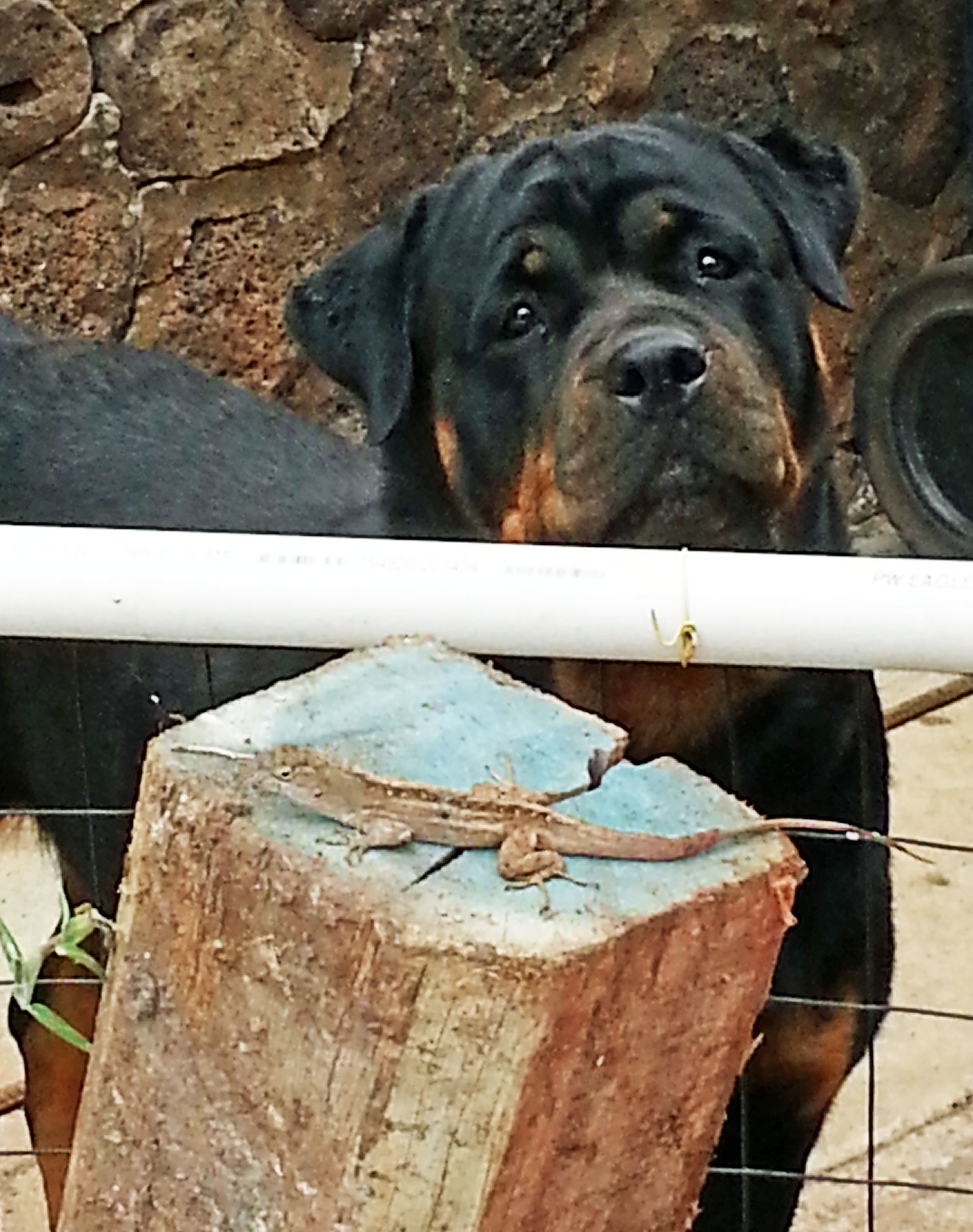 Pictured above: BISS

Silver

Grand CH. Wind Beneath My Wings, DBR winning Best of Opposite at the ASRC 24th Specialty July 19, 2014 and Best of Breed and Group 2 at the Working Group Specialty, May 4, 2014. Owned and loved by Penny Fernandez and company. Shown to perfection by Ms. Kiera Beatty and Ms Stacia Ohira.
​
Photo courtesy of Mike Johnson Photography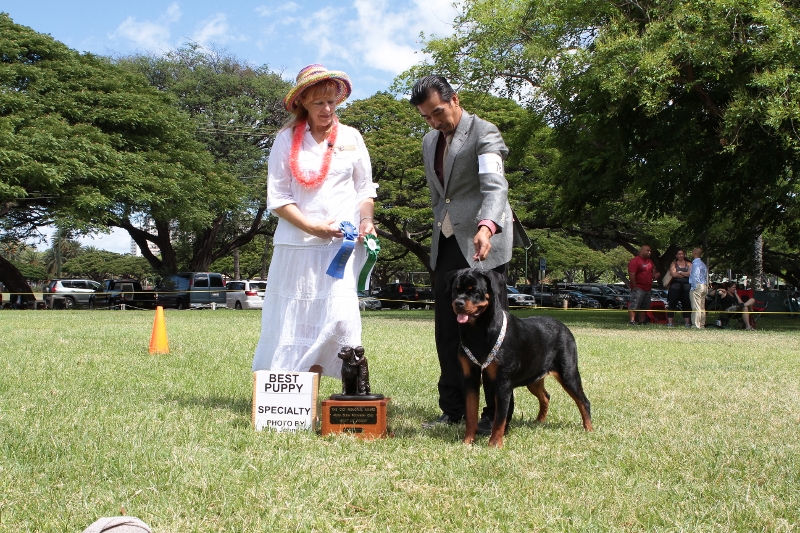 "Hachi" awarded Best Puppy at the ASRC Specialty under respected judge Ms. Marlene Lore Keene. Hachi is out of Yumbo and Bubbles and owned by Heidi Valvu, Honolulu HI
​
Courtesy of Mike Johnson Photography​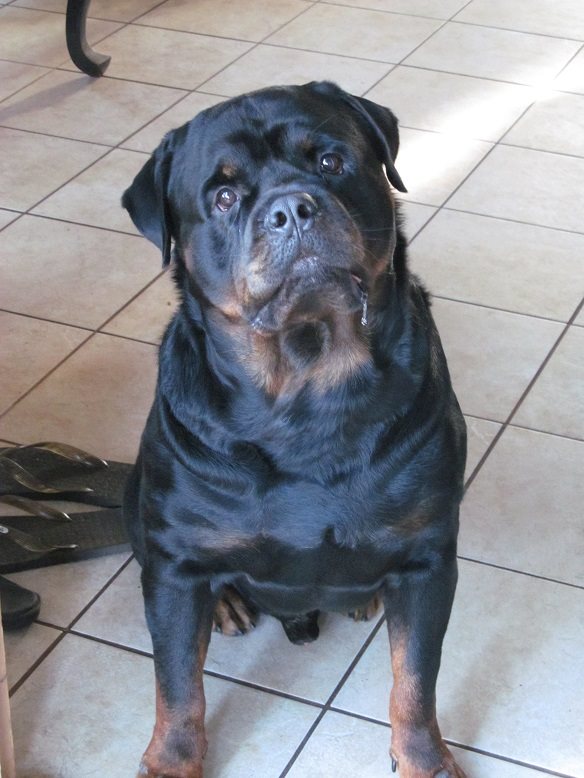 "Monty" is loved by Patsy Peterson, Mililani Hawaii. Monty is out of "DBR's Mana" and "DBR's Hoku." pictured left and right.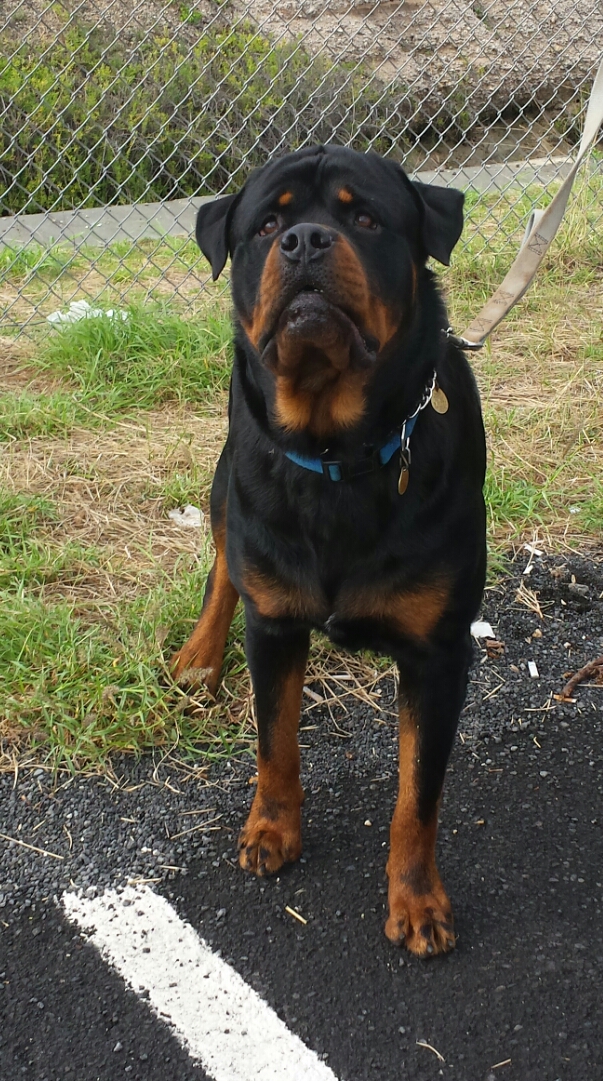 Two brothers, left, pictured at different ages from our last breeding. They are littermates of our Pauahi.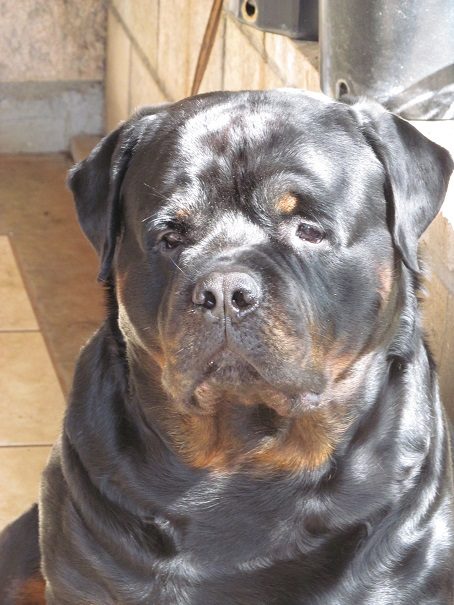 "Boots" is Yumbo x Bubbles. He is loved by Aulani Jeffery from Waimea Hawaii.

Photo by Aulani

click here to edit thi.
"Axel" pictured a year old, (and four years ago) is loved by Luann Pacheco in Waikaloa Hawaii.

click here to edit this text.
CH DBR's Maluhia goes back to back Best of Breed, September 5, 6 2015.
Pictured with her handler, Pohai and owner, Lovelyn Fujita​to edit this text.
He did it again! BISS CH. "Hero" goes Best In Specialty Show as a veteran. Shown with style by Ms. Kiera Beatty
Aloha State Rottweiler Specialty September 2015​to


Congratulation​s to Team Hero

this text.
Not just another pretty face, DBR's Hazmat goes to work with his owner, Naomi Owens Dunhour as a service dog. OFA CHIC
Hazmat, (Yumbo x Bubbles) doing what he does best with owner, Naomi Owens. Hawaii.
Augie and Justina, with their family, Ray Broggini and Carl Hedberg. Hawaii, 2017
DBR Hokulani owned by Michelle Ritchie, Maui Hawaii


bd​
Kupa'a, a linebred DBR dog, pictured at 4 years old, is owned by John and Mary Pittman, Makakilo Hawaii 2017 (Lucie x Bravo)
L to R: Lucie, Raikou, Pauahi, Kiki and visiting on maternity leave, "Butch" from KELA Rottweilers. Photo March 2018
"Max" pictured at 1 year old, at home with the Chun family, Honolulu (Raikou x Lucie)
Left, the legendary Ch. TK's Gladiator, looking at DBR the Black Mamba (Raikou). They are distant cousins. "Gagi" is proudly owned by Dr. Ronald Pangilian of Medi-Rotts.
Above, 2 year old "Koa" in California, owned by the Garcia family. (Raikou x Pauahi)
"Mana" right owned by Jon and Jennifer from Makakilo Hawaii (Female) Raikou x Lucie